Mass Times
Monday

: 9.30 am

Tuesday

: 9.30 am & 6 pm (Signing)

Wednesday

: 9.30 am & 7.00 pm

Thursday

: 9.30 am & 7.00 pm

Friday

: 7.00 and 9.30 am

Saturday

: 9.30 am

Sunday

: 8.00 & 11.30 am (Signing for the Deaf); 5.30 pm

Vigil

: Saturday VIGILS 4.00 & 5.45 pm
---
Latest News & Events
March 8, 2019 06:21 PM
School for Lent
Monday, Wednesday &Thursday Mass in JPII Primary at 8.15 am before the breakfast club.
March 3, 2019 01:11 PM
Lent 2019
Lent begins on Wednesday aka Ash Wednesday. Giving up something good for Lent can be really great by donating some or all of saved expense to charity. Giving up something bad can be really great by deciding at Easter to stay bad free.
January 18, 2019 04:38 PM
Divine Mercy Holy Hour
Friday 3-4 pm and on the last Friday of the month from here on. (With adoration). March 29th 2019
January 6, 2019 04:13 PM
30 mins before Mass
Monday 5 pm Hymn Singing; Tuesday 5 pm Liturgical Signing; Thursday 6 pm Intercessions-send prayer requests to jim.ivymorris@gmail.com with Prayer in the Subject Line
December 20, 2018 06:59 AM
Livestream 24/7 at St Gabriel's
To access webcam go to www.churchservices.tv/viewpark
November 3, 2018 11:58 AM
Monday-Friday Public Rosary 10.05 am
As requested by Pope Francis. Rosary on Tuesday with Signing
February 9, 2017 12:09 PM
Contact link broken
The email link for contact is under repair: Please use jim.ivymorris@gmail.com for contact
January 4, 2017 08:07 PM
Quickest way of contact
Handiest email= jim.ivymorris@gmail.com
Mobile: 07547179546
Landline/ansaphone: 01698 817609
June 8, 2016 02:07 PM
St. Columba's New Tel.No
01698 813311
December 26, 2015 12:57 PM
Monthly Healing Mass
April Mass Friday 5th 2019 at 7.30 pm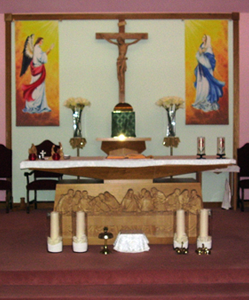 Contact Us
Saint Gabriel's Church
1 Cedar Drive
Viewpark
Uddingston
North Lanarkshire

G71 5LF


Tel: 01698 817 609