Mass Times
Monday

: 9.30 am &. 7.00 pm

Tuesday

: 9.30 am & (Livestream) 6.00 pm

Wednesday

: 9.30 am and 7.00 pm (Livestream)

Thursday

: 9.30 am & 7 pm

Friday

: 7 am & 9.30 am Plus 11.45 am

Saturday

: 9.30 am

Sunday

: 8.00 & 11.30 am (Signing for the Deaf); 5.30 pm

Vigil

: 4 pm & 5.45 pm
---
Latest News & Events
January 9, 2021 02:38 PM
Requiem Mass for Charlie Docherty R.I.P.
Requiem Mass Friday 11.45 am then Bothwellhaugh Cemetery 1 pm
Please remember his family in your prayers
January 5, 2021 04:50 PM
Total Lockdown
All Masses, Rosaries and other devotional items will be livestream only until at least January 31st. Funerals with a maximum of 20 mourners will be allowed as necessary.
August 3, 2020 07:26 PM
Eventbrite Mass bookings
Fr. Jim Morris Click Here for www.eventbrite.co.uk
Press the Mass time you prefer, then register for tickets
January 18, 2019 04:38 PM
Divine Mercy Holy Hour
2-3 pm on Fridays (With adoration).
January 6, 2019 04:13 PM
30 mins before Mass
Monday 6 pm Hymn Singing; Tuesday 5 pm Liturgical Signing; Thursday 6 pm Intercessions-send prayer requests to jim.ivymorris@gmail.com with Prayer in the Subject Line
December 20, 2018 06:59 AM
Livestream 24/7 at St Gabriel's
To access webcam go to www.churchservices.tv/viewpark Or download the app Church Services TV and set St. Gabriel's As the home page. Also available through the Roku plug-in (WiFi required) at CSTV App. Parish websites: www.saintgabrielsviewpark.org press Links and then wwwchurchservices.tv/viewpark or www.stgabrielsviewpark.scot and press Webcam
November 3, 2018 11:58 AM
Monday-Friday Public Rosary 10.05 am
As requested by Pope Francis. Rosary on Tuesday with Signing
February 9, 2017 12:09 PM
Contact link broken
The email link for contact is under repair: Please use jim.ivymorris@gmail.com for contact
January 4, 2017 08:07 PM
Quickest way of contact
Handiest email= jim.ivymorris@gmail.com
Mobile: 07757373490
Landline/ansaphone: 01698 817609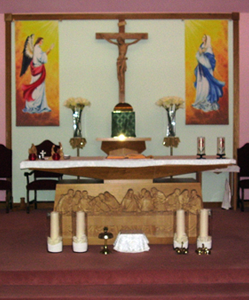 Contact Us
Saint Gabriel's Church
1 Cedar Drive
Viewpark
Uddingston
North Lanarkshire

G71 5LF


Tel: 01698 817 609