Mass Times
Monday

: 9.30 am & 7.00 pm

Tuesday

: 9.30 am & 6.00 pm

Wednesday

: 9.30 am & 7 pm

Thursday

: 8.30 am & 7 pm

Friday

: 7 & 8.30 am; Plus 12.30 pm

Saturday

: 9.30 am

Sunday

: 8.00, & 11.30 am (Signing) 5.30 pm

Vigil

: 4 & 5.45 pm
---
Latest News & Events
October 16, 2021 02:51 PM
Requiem Mass for Michael MacCrimmon R.I.P.
Requiem Mass Friday at 12.30 pm (22/10)
October 16, 2021 02:50 PM
Requiem Mass for Mary Fagan R.I.P.
Reception of Body Monday 7 pm (with Mass) (18/10)
Requiem Mass Tuesday at 9.30 am (19/10)
February 20, 2021 11:09 PM
Friday 7 pm Mass October 29th
Santa Messa celebrata in italiano
August 3, 2020 08:26 PM
Eventbrite Mass bookings
Fr. Jim Morris Click Here for www.eventbrite.co.uk
Press the Mass time you prefer, then register for tickets
This service is not needed at the moment but in the event of another lockdown and restrictions it will remain in place.
January 18, 2019 04:38 PM
Divine Mercy Holy Hour
2-3 pm on Friday 29th October (With adoration).
January 6, 2019 04:13 PM
30 mins before Mass
Monday 6 pm Hymn Singing; Tuesday 5 pm Liturgical Signing; Thursday 6 pm Intercessions-send prayer requests to jim.ivymorris@gmail.com with Prayer in the Subject Line
December 20, 2018 06:59 AM
Livestream 24/7 at St Gabriel's
To access webcam go to www.churchservices.tv/viewpark Or download the app Church Services TV and set St. Gabriel's As the home page. Also available through the Roku plug-in (WiFi required) at CSTV App. Parish websites: www.saintgabrielsviewpark.org press Links and then wwwchurchservices.tv/viewpark or www.stgabrielsviewpark.scot and press Webcam
November 3, 2018 11:58 AM
Monday-Friday Public Rosary 10.10 am
As requested by Pope Francis. Rosary on Tuesday with Signing
This week no public Rosary on Tuesday, Thursday or Friday
February 9, 2017 12:09 PM
Contact link broken
The email link for contact is under repair: Please use jim.ivymorris@gmail.com for contact
January 4, 2017 08:07 PM
Quickest way of contact
Handiest email= jim.ivymorris@gmail.com
Mobile: 07757373490
Landline/ansaphone: 01698 817609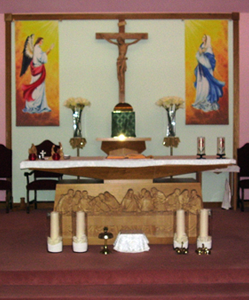 Contact Us
Saint Gabriel's Church
1 Cedar Drive
Viewpark
Uddingston
North Lanarkshire

G71 5LF


Tel: 01698 817 609